The founder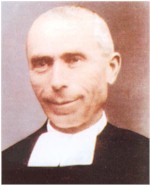 Brother Teodoreto of the Christian Schools ( Professor Giovanni Garberoglio )
was born at Vinchio d'Asti on February 9th, 1871.
At the age of 17 he entered the Institute of the Brothers of the Christian Schools.
He devoted the majority of his apostolic activity in the school, first as teacher, then as Inspector, and finally as Director.
In 1906, during the second novitiate, he came up with the proposal of working for the foundation of a work to help students to persist in their christian life at the end of the school.
-
In 1912 he met Fray Leopoldo Maria Musso, a Franciscan whit a reputation for sanctity, who offered him encouragement and advice to carry out such a project and he also received the prayer of "Adoration of Jeus Crucified" to disseminate throughout the world.
He founded the "Union of Catechists of Jesus Crucified and Mary Immaculate" and he promotes the foundation of the "House of Charity of Arts and Crafts".
The last years of his life went by in the practice of an inner evangelical life and a calm acceptance of suffering.
He also offered his prayers and advece to all those who came to him for help.
He died in Turin on May 13th, 1954.
February 27th, 1959
his body was moved the House of Charity of Arts and Crafts in Corso Benedetto Brin, 26 Turin.
January 11th, 1961
the Diocesan information process began.
March 3rd, 1990
his Holiness John Paul II declared him Venerable.