The Union of Catechists
1914 The Association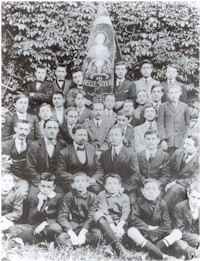 This association is spread among the Brothers' Houses, under the sponsorship and directives of Brother Teodoreto.
In the beginning young people committed themselves to cultivate their piety by means of the practice and dissemination of the Adoration of Jesus Crucified.
Later on, the members were known as Catechists, preparing themselves adequately for catechesis which given in many parishes in the city.
1933 The Congregation
Following the invitation of Cardinal Giuseppe Gamba, Archbishop of Turin, some Catechists make the first secular consecations.
1948 The Secular Institute
Approved by Cardinal Maurilio Fossati, Archbishop of Turin.
Members
members of the Men and Women Adorers of Jesus Crucified, they participate in the spiritual goods of the Institute.
they practice the evangelical counsels in the world.
either married or preparing to be married they live according to the spirit of the evangelical counsels.
1998
Cardinal Giovanni Saldarini, Archbishop of Turin, approves the new Constitutions "ad experimentum".
Doctoral Dissertation of Ruta Habte Abrha:
5 june 2018