The Catechist
From the Constitutions
1. Brother Teodoreto, wanting to be in harmony with the requests of his superiors in the sense of fostering initiatives which favour the perseverance in the Christian life, especially as regards students and former students of the Christian Schools, enlightened by God, through Fray Leopoldo Maria Musso, OFM and encouraged by his superiors, was led to found, through successive developments and with the intervention of the Archbishop of Turin, the Secular Institute of the "Union of Catechists of Jesus Crucified and Mary Immaculate".
2. The members of the Union, in response to an interior call from the Holy Spirit, attracted by the love of Jesus, who is crucified and risen as seen clearly in his bloody and glorious wounds, have gathered together, under the protection of the Immaculate Virgin, to present in a spirit of reparation, to persons of their time, the triumphal power of the merciful love of the glorious, crucified Lord, his universal saving action for the world, in history, of secular and daily life: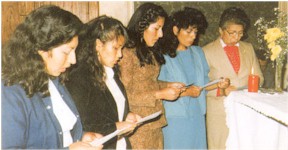 "And I, when I am lifted up from the earth, will draw all people to myself" (John 12:32).
3. Union members work so that the Cross of Christ is seen as a throne of glory, a source of pardon and of life, of reconciliation and universal renewal, the supreme manifestation of the kingship of the Lord.
22. The Lord Jesus, in his mystery of death and resurrection, for the life of the world, is the center of the mission of Union members.