The Adoration of Jesus Crucified
" You love me, I love you "
Adoration of Jesus Crucified is the charismatic spiritual component of the Union and it consists in helping Catechists and the faithful to grow in intimacy with Jesus Crucified in union with the Most Blessed Virgin.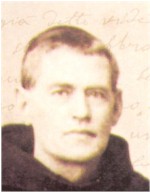 The prayer composed by the Servant of God Fray Leopoldo was entrusted to the Brothers of the Christian Schools to be distributed freely throughout the world with the collaboration of the Catechists.
As a reverberation of the Good Friday liturgy, the prayer suggests:
bringing people to Jesus Crucified " through whole wounds we have been saved ";

preparing the faithful for the Altar sacrifice as a response to the love of Jesus;

making amends for the evil caused by sin;

nourishing Christian life in families and in society and bringing young people to Christ.
Biography
"An intimate relationship with Jesus Cricified" - Author: Brother Teodoreto F.S.C.
from the Constitutions
223. The Movement of Men and Women Adorers is made up of those who, in the Holy Spirit, whether by personal or group commitment, commit themselves to practice and disseminate, in a spirit of reparation, the Adoration of the bloody and glorious wounds of the Lord Jesus, the source of resurrection and of life.
Those person who, united to Jesus Crucified, offer their spiritual or physical suffering, to obtain from the merciful Father vocations to the priesthood and the consecrated life, are part of the Movement, too.