Works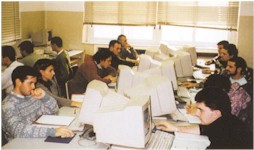 Founded by the Catechists with encouragement from the Founder in 1925.
In 1971 this organization becam an " Association " with founding members which included the Union of Catechists and the Province of Turin of the Brothers of the Christian Schools.
A ministry of gratuitous professional training for the social and Christian education of working young people.
It is " House of Charity " because it is based on the love of the Crucified Jesus, who is Teacher and Savior and its educational activities are carried out in solidarity.
" The Source ". Spirituality Center
Directed towards presenting to the faithfuls the One through whose wounds we were saved, so that he might be recognized as universal King and Lord.
Family Group
Monthly formation meetings to help in living the sacrament of matrimony.
" The love to Jesus Crucified " Bulletin
A formation-information bulletin about Union's activities.
Mass for the poor. Collaboration
It intends to offer the solace of an encounter with the Crucified Christ and the kindness of the Father to those most poor and marginalized.
This would take place by means of a service of welcoming, understanding and fraternal service.